Fusion Dragonoid Pyrus
Fusion Dragonoid is the newest evolution of the Dragonoid Line. He is the first Sky Raider to appear on the show. He is the partner to Dan Kuso. He evolved from Titanium Dragonoid.
He partners with Haos Reptak to form Areoblitz. His Mechtogan is Dragonoid Destroyer. His Battle Suits are Doomtronic and Defendtrix.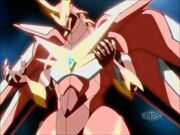 Ability Cards
Dragon Trasher
Dragon Spurr
Dragon Exploder
Dragon Energy
Fusion Shield
Dragon Overcannon
Dragon Astral